HARDENED AND TEMPERED STRIP STEEL FOR WIPER BLADE STEEL
Hybrid Wiper Blade is different than any other wiper.
Reason is, It is more flexible and also hybrid wiper blade steel is more solid construction of a conventional wiper.
Wiper blade steel is a material used to produce wipers that scrape water from car windows.
Hybrid wiper blade steel is more aerodynamic and have precise pressure points for exceptional wiping performance
Specification
SPEC
THICKNESS
0.1 ~ 4.0 mm
WIDTH
5.0 - 450 mm
HARDNESS
HV 300 ~ 600
STRUCTURE
Bainite, Tempered Martensite
HARDNESS TOLERANCE
± HV 20 (Special ± HV 10)
STRAIGHTNESS
Max 0.5mm / 1,000 mm length
CROSS CAMBER
Max 3μm / mm Width (Special Max 1μm/ mm Width)
SURFACE COLOR
Unpolished blue, Bright, Polished blue, Polished white,
Polished yellow
EDGE FINISH
Slit edge, Deburred edge, Round edge, chamfered edge,
Square edge
INNER DIAMTER
MIN. 300 ~ 600mm
OUTER DIAMETER
MAX. 1,800mm
Application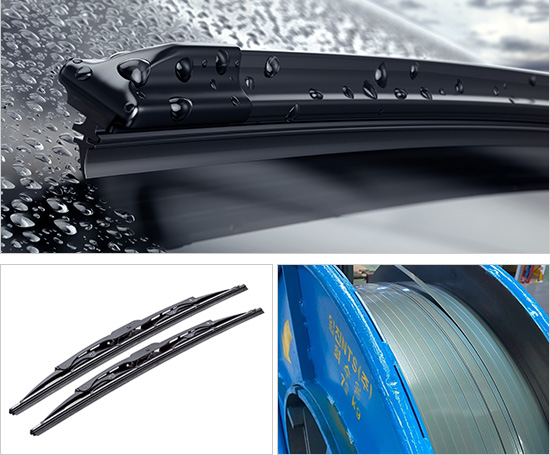 Strip Steel for Automobile Industry
Specification
SPEC
THICKNESS
0.1 ~ 4.0 mm
WIDTH
5.0 - 450 mm
HARDNESS
HV 300 ~ 600
STRUCTURE
Bainite, Tempered Martensite
HARDNESS TOLERANCE
± HV 20 (Special ± HV 10)
STRAIGHTNESS
Max 0.5mm / 1,000 mm length
CROSS CAMBER
Max 3μm / mm Width (Special Max 1μm/ mm Width)
SURFACE COLOR
Unpolished blue, Bright, Polished blue, Polished white,
Polished yellow
EDGE FINISH
Slit edge, Deburred edge, Round edge, chamfered edge,
Square edge
INNER DIAMTER
MIN. 300 ~ 600mm
OUTER DIAMETER
MAX. 1,800mm
Application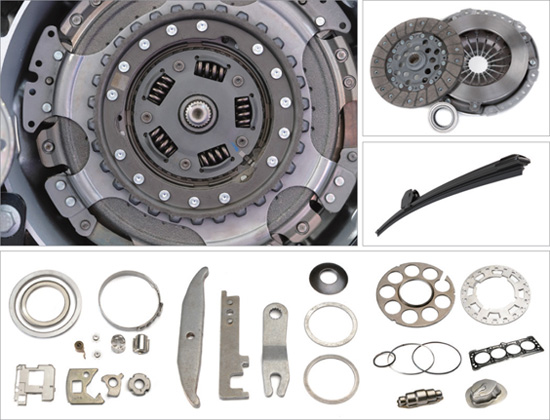 Strip Steel for Saw Blade/Others
Specification
SPEC
THICKNESS
0.1 ~ 4.0 mm
WIDTH
5.0 - 450 mm
HARDNESS
HV 300 ~ 600
STRUCTURE
Bainite, Tempered Martensite
HARDNESS TOLERANCE
± HV 20 (Special ± HV 10)
STRAIGHTNESS
Max 0.5mm / 1,000 mm length
CROSS CAMBER
Max 3μm / mm Width (Special Max 1μm/ mm Width)
SURFACE COLOR
Unpolished blue, Bright, Polished blue, Polished white,
Polished yellow
EDGE FINISH
Slit edge, Deburred edge, Round edge, chamfered edge,
Square edge
INNER DIAMTER
MIN. 300 ~ 600mm
OUTER DIAMETER
MAX. 1,800mm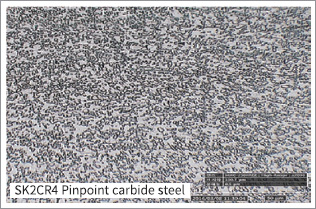 Microstucture
Fully spheroidized pin-point carbides
Free of carbide network or lamellar pearlite and free of carbide alignment, uniformly distributed in a ferrite matrix.
Carbide size is less than 1 micron diameter, maximum carbide is not exceed 3 microns, carbide spacing shall not exceed 4microns.
Application
Shaving Strip Steel
Edge finishing the right edge for every application
All kind of edge customer requirement, we can shave it precisely in the strip edge-deburred, round, chamfered, square, bevel shaved, bevel shaved +High frequency etc.
On request we can meet edge geometry of our strip steels exactly, so that customer uses it in their application, such as band saw, steel rule, rotary rule, springs etc.
We can also use our shaving machines to prepare the edge for final finishing on customer requirement.
SPEC
FINISH TYPE
DEFINITION
APPLICATION
IMAGE
Slit edge
sharp edged with slitting burrs left on
left spring
Deburred edge
slit edges from which burrs
have been removed
left spring
Round edge
edged rounded
power spring
Chamfered edge
square edge with round corner
saws and blades
Square edge
sharp-cornered square edges
band saws
Bevel shaved edge
sharp-bevel
rotary rule
Bevel shaved edge +
High frequency
sharp-bevel with high frequency of edge
rotary rule
Available dimesion
Specification
SPEC

| | |
| --- | --- |
| THICKNESS | 0.1 ~ 4.0 mm |
| WIDTH | 5.0 - 450 mm |
| HARDNESS | HV 300 ~ 600 |
| STRUCTURE | Bainite, Tempered Martensite |
| HARDNESS TOLERANCE | ± HV 20 (Special ± HV 10) |
| STRAIGHTNESS | Max 0.5mm / 1,000 mm length |
| CROSS CAMBER | Max 3㎛ / mm Width (Special Max 1㎛/ mm Width) |
| SURFACE COLOR | Unpolished blue, Bright, Polished blue, Polished white, Polished yellow |
| EDGE FINISH | Slit edge, Deburred edge, Round edge, chamfered edge, Square edge |
| INNER DIAMTER | MIN. 300 ~ 600mm |
| OUTER DIAMETER | MAX. 1,800mm |
Unit Cutting Strip Steel
Specification
SPEC

| | |
| --- | --- |
| THICKNESS | 0.5 ~ 2.0 mm |
| WIDTH | 10 ~ 100 mm |
| STRAIGHTNESS | Max 0.5mm / 1,000mm length |
| CROSS CHAMBER | Max. 3㎛ / mm Width (Special Max. lum / mm Width) |
Specification for Oscillating
SPEC

| | |
| --- | --- |
| THICKNESS | ~ 2.0 mm |
| WIDTH | ~ 70 mm |

Technical information
(Tolerance of form)

Packing
Specification
SPEC

| | |
| --- | --- |
| IN DIA METER | 400 ~ 510 mm |
| OUT DIA METER(MAX) | ~ 2,000 mm |
| WEIGHT (MAX) | ~ 2,000 kg |
| REMARK | In coil, Wrapped |